Small businesses are the backbone of the Indian economy. The Indian service sector plays a major role in the country's economy. Small businesses are growing daily in the Indian market. There are about 42.2 million small businesses registered and unregistered in India. These small businesses produce employment for around 40% of India's workforce. Out of which approximately 1 million are from Mumbai, Maharashtra.
Do you want to know how to run a successful small business in Mumbai? The secret is digital marketing.
There are about 825 million Internet users in India. With upgraded data technologies like 5G to be launched by JIO, India is expected to reach 1 billion internet users by 2030. This is the perfect time for businesses to create their online properties like social media channels, blogs, Youtube channels, etc.
We would like to give some easy methods of digital marketing that would 100% work for you.
Let's divide the business into services & products.
Service-oriented businesses need lead generation and then comes sales in the backend.
Whereas for product-oriented business frontline is sales. Well, definitely lead generation could play an important role here. Though right now we are focusing on online advertising, we will talk about conversions.
Conversions are nothing but actions taken by the ad visitor. Every conversion on your medium(mobile app or website) will tell you if you are growing the business of digging a hole.
Both Facebook & Google offer conversions. Facebook calls it Pixel.
First, let's talk about how to run a small service business using Facebook advertising
Facebook has 3.7 million users from Mumbai alone.
Facebook ads have been epic for the FMCG, fashion & food industries. Recently, selling courses online & real estate has seen a great response since the pandemic.
B2C segments sell enormously on Facebook because the users mostly roll on Facebook for entertainment or to get in touch with friends and family. These users have spare time to glance at the various ads that pop while browsing Facebook.
If you are a small business in B2C and need sales or leads, Facebook is here to save you.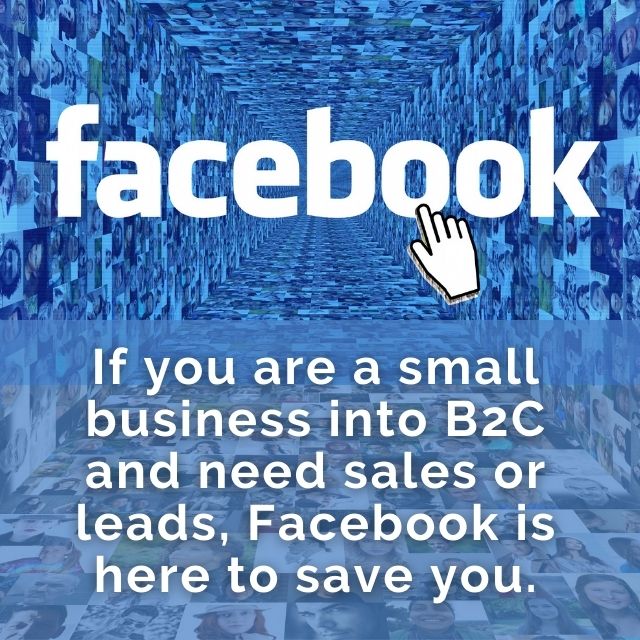 The best part about Facebook is the interactivity that gets attention and lets users like, comment & share the ads. The website traffic ads are cheaper on Facebook compared to Google, though there might be slight disturbances in the conversion goals. Opposite it is on Google ads.
Let's talk about Google Ads for small businesses in Mumbai
Google Ads has been the player when it comes to advertising online. Google owns Youtube which makes it easier for users to show ads on Google's search engine as well as its own Youtube channel.
Google ads work great for B2B as well B2C sector. Though the B2C sector finds it expensive in comparison to Facebook. This is not true, when compared to Facebook, you might get cheap traffic but the conversion rate would be higher on Google Ads. We are saying this on the basis of the type of small business leads we receive on a regular basis.
Especially, when generating leads for B2B in Mumbai, we highly recommend using Google Ads. It has a huge number of users hunting for other businesses for services & products both on a daily basis.
Google Shopping Ads ROI(return on investment) has to be almost double. Yes, that is true for Google Shopping Ads when selling products online with them. They really know how to use browser cookies well to show the ad only when the user is genuinely interested in the product. This way Google ads benefit B2C businesses well.
Google favors both B2B & B2C industries, services-based business, education, fashion, real estate, FMCG, and construction.
You may let us know your thoughts via the contact page in the website menu. We hope we were able to solve a few mysteries for you about these two advertising platforms.
Overall, both advertising platforms are doing great, B2C works great on Facebook whereas B2B & B2C both sell well on Google Ads. For B2C, Google ads might sound expensive initially, but if you take the right steps it would give you the perfect ROI. Feel free to contact us to know how can we help your small business in Mumbai to grow using Facebook ads & Google ads.